News
Central Pharma Continues Supply Chain Investment
Thursday 21stOctober 2021 . Published by Central Pharma
Expanding operations in the UK and the Republic of Ireland, all three of Central Pharma's sites are now fully licensed, enabling them to control supply chain and offer a complete service for global API and bulk product manufacturers.
"Our bespoke procurement and specialised facilities add value into the business, helping us to develop partnerships with suppliers and nurture growth."

Wendy Hamdorff, Procurement Manager, Central Pharma
Investing for the Future
Central Pharma's continued investment is ongoing. Wendy Hamdorff, Procurement Manager, explains: "Central Pharma continues to go from strength to strength. Over recent months we have expanded our warehousing space and cold storage facilities, developed an in-house recycling plant and introduced our supply chain services in Ireland."
EU Gateway for 3rd Country API Manufacturers
Central Pharma's comprehensive portfolio of MHRA licenses gives API and bulk product manufacturers the opportunity to access the UK marketplace through expanded facilities in Bedford and Haverhill, with the Tralee operation in the Republic of Ireland providing post-Brexit access to EU markets.
Partnered API and bulk product manufacturers from all over the world will benefit from Central Pharma's globally licensed supply chain services as it continues to invest. Central Pharma's bulk product assessment, Qualified Person (QP) sign-off and audit can improve processes for all API and 3rd country manufacturers.
Wendy Hamdorff said: "Our bespoke procurement and specialised facilities add value into the business, helping us to develop partnerships with suppliers and nurture growth."
The Supply Chain Process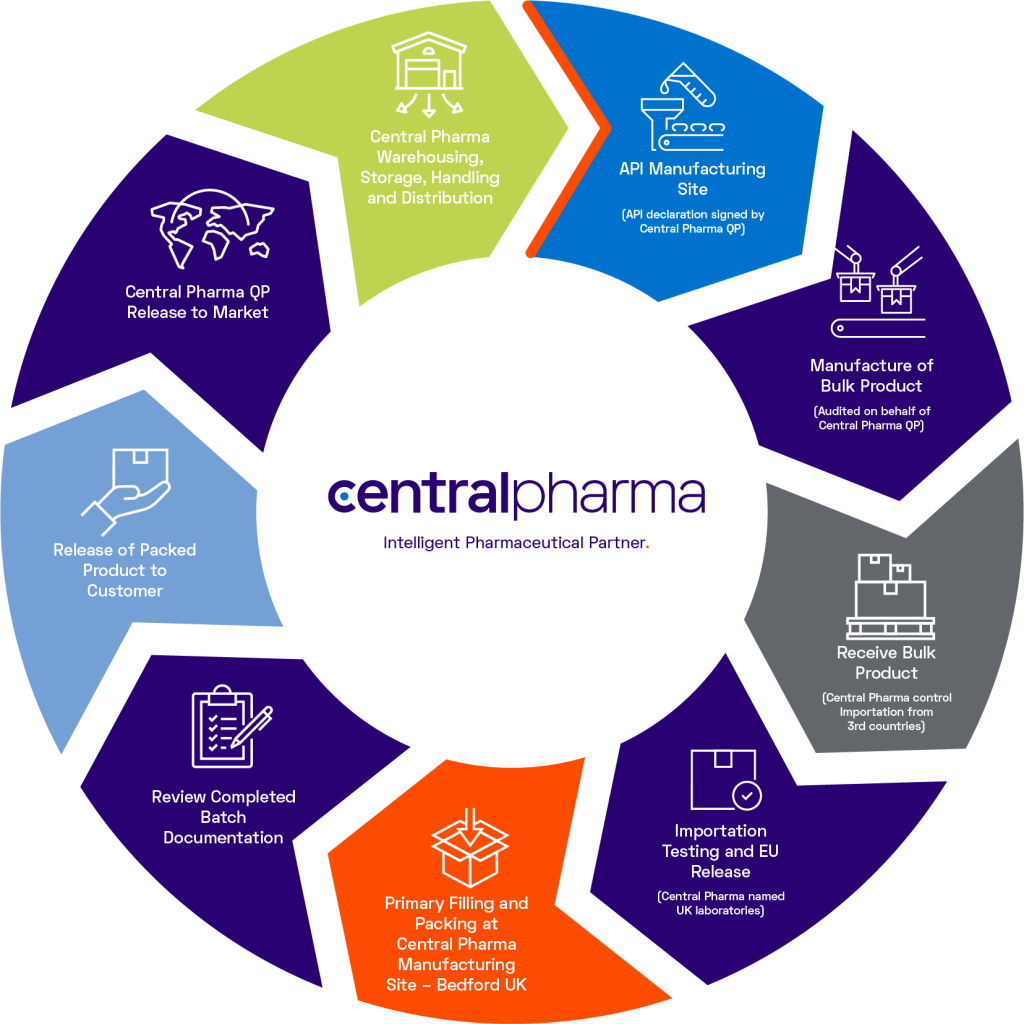 As bulk product is received from the manufacturer at one of Central Pharma's fully licensed facilities, import testing is conducted at UK laboratories to clear product for UK and EU release.
When product has been passed for entry into the UK and EU marketplaces, filling and packaging can begin. All Central Pharma sites use a combination of manual and automated state-of-the-art machinery, following stringent procedures for precision blister packaging, bottle and tub filling, and sachet filling services.
Filling and packing are conducted in secure, sterile environments and labelled correctly under strict documented QA procedures. Completed batch documentation is reviewed before finished products are released for warehousing and distribution.
The Bedford, Haverhill and Tralee sites' handling, warehousing and distribution of finished product is carried out safely and securely via Central Pharma's meticulously controlled processes and procedures under the authority of their Wholesaler Dealers Authorisation license.
Central Pharma sites adhere to Good Distribution Practice guidelines with operations passing regular GDP inspections for compliance. And their QP services ensure that only certified finished products are made available for patients and consumers.
For the EU all commercially licenced products manufactured or imported must have a QP to approve and release each batch. Central Pharma's QPs at each site are highly skilled in quality control systems which are audited through EU GMP.
QP-released finished product is shipped to wholesalers and distributors from Bedford and Haverhill in the UK, and Tralee for the EU. Shipping is managed by Central Pharma in the UK and is carried out by 3PL in the EU. Transport and logistics partners are approved and audited for licensed medicinal product and controlled substances.
Rising to the Challenges
Central Pharma's mission is to control every element of the supply chain to offer its customers a steady route to market with world-class services that get their products seamlessly from API and bulk manufacturers to patients and consumers. Achieving this goal requires ongoing investment to ensure supply chain adaptability and flexibility.
Wendy Hamdorff continues: "Supply chain is a challenging environment and some of these challenges are worldwide changes which could be long lasting: covid, natural resources, people, geo-politics etc.
These challenges are not what shape our supply chain but more what prevent us looking at the supply chain as we once did this requires creative and sometimes outside-the-box solutions. These solutions also allow us to look deeper and reach for environmental and sustainable solutions to create a new and improved supply chain."
View all news
News
Central Pharma set to enhance supply chain
With recent investment Central Pharma is set to increase its blistering capabilities with additional equipment.
Read more
Can't find what you're looking for?
Drop us a message to discover our full range of services tailored to your business and find out how Central Pharma can be your intelligent pharmaceutical partner.
Contact