Explore more
Our sachet filling solutions are offered in a variety of types, ranging in size and format, with secondary packaging insertion
.
Sachets give end-users a convenient and accurate solution for powder and granule dosage delivery. Our sachet filling, designs and production methods ensure your products are well protected, always reaching consumers in perfect condition.
We offer both vertical form-fill-seal and 4-sided seal sachets with the option for tear notches. Furthermore, our secondary packing includes carton packing and patient information leaflet (PIL) insertion, to accelerate time-to-market. We also provide serialization and aggregation at the end of the line.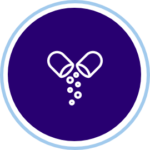 Powders

.
Granules

.
Accreditations & Licences

.